THE ESTIVILL SLEEP FOUNDATION AND TENNIS CLUB BARCINO BEGIN THEIR COLLABORATION INVESTIGATING SLEEP MANAGEMENT FOR COMPETING AND ELITE TENNIS PLAYERS

ESTIVILL SLEEP FOUNDATION LAUNCHES A NEW RESEARCH WITH JOSEF AJRAM
The main objective of the Estivill Sleep Foundation is to do research and raise awareness regarding Sleep Medicine. One of our areas of research covers sleep in extreme conditions, such as in people with abnormal sleep habits.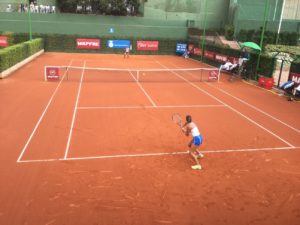 From different collaborations, such as studying sleep on an Everest ascent with Ferran Latorre, studying the stages of rest of Albert Llovera in the Dakar race or studying sailors´sleep during transoceanic regattas, it has been shown that sleep can have consequences on physical and cognitive performance levels as well as their resistance to stress.
Sports performance is mainly based on physical training, but other factors such as physical recovery, psychological preparation, nutrition and rest are also important. Adequate sleep plays a very important role in athletic performance, in physical, physiological and metabolic recovery, and also in the cognitive and mood states.
But in general, sports disciplines imply a degradation of rest due to a deprivation of sleep, poor sleep quality and a deterioration of circadian rhythms. A lack of rest, therefore, is an added wear and tear that will affect an athlete's recovery, regarding their emotional state and their athletic performance throughout their sports career.
As a consequence, the sleep management of participants and their teams is crucial and differential in order to preserve maximum performance and maintain sufficient rest due to physiological demands while practicing or competing in the sport.
With the collaboration of Club Tennis Barcino, one of the oldest and with players present in many of the national and international competitions, we started a full sleep study, including circadian rhythms, emotional and neurocognitive states and a physical performance the 100 tennis players who are on competitive and elite teams. It is a pioneering study in our country.
The study will assess the likelihood that athletes suffer chronic sleep deprivation due to the difficulty of reconciling sports training with schooling. In addition, the impact of sleep deprivation on sports performance, mood and cognitive states will be evaluated. Finally, training will be provided on the improvement of sleep habits.