CLINICAL TRIAL WITH A PRODUCT TO PLANT AND MELATONIN BASE TO IMPROVE QUALITY SLEEP
30% of the population has difficulty sleeping. Of particular interest to the Foundation conduct this clinical trial to promote Natural sleepand with good sleep patterns and other resources by avoiding unnecessary use of hypnotic medications.
To this end, the Foundation, we support dedicated to improving sleep in social groups that suffer from poor sleep due to, work, personal ... and the pace of our society social obligations, which leads to stress and accumulation of tensions jobs during the day.
Interventions are mainly based on detection applying bad habits and sleep patterns recommended by our specialists, pathology detection and treatment plants and other ingredients with soothing effect, in other cases with alertizante effect.
CLINICAL TRIAL *
PRESENTATION
Home observational study of a food supplement herbal and melatonin: we have a great opportunity to provide new data in the field of natural treatments. The pioneering study is a diagnostic method by using objective sleep parameters, by sensors actimeters of chronobiology (Kronowise KW-5 https://kronowizard.um.es/)
INTRODUCTION
The present study is to evaluate the benefit in sleep, a compound with natural active ingredients yarrow Dream as cronoregulador and inducing sleep in people with sleeping difficulties.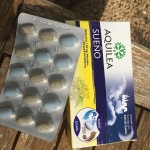 PROJECT STATUS to November 23, 2016
It is about to complete the first phase of the assay clinical. They have been recruited volunteers provided and have undergone studies scheduled. Now begin the study phase of the data, the statistical evaluation and publication of results.
ESTIVILL SLEEP FOUNDATION LAUNCHES A NEW RESEARCH WITH JOSEF AJRAM
PROJECT STATUS to December 16, 2016
We studied 18 patients (8 men and 10 women with a mean age of 54 years) randomly selected and who met the inclusion criteria (ICD-10-CM-code: F 51-02).
The study methodology consisted of performing for a week, a baseline study of the characteristics of your sleep by sensors chronobiology (Kronowise) and a battery of questionnaires of subjective assessment of rest and daytime consequences. Subsequently it has been orally administered the test compound for a week, controlling his dream with the same sensors. At the end of treatment they have also been administered the test of subjective assessment of their rest. The results are compared with the parametric Student t method by comparison of paired means.
RESULTS
Registered by the sensor parameters, we observed significant differences of objective variables as important sleep such as sleep latency, sleep efficiency or number of awakenings. Similarly, the subjective values ​​through questionnaires show us significant differences.
CONCLUSIONS
Treatment for a week, with a compound food supplement melatonin, valerian, passionflower and poppy has proved useful for people who have difficulty falling asleep and keep it overnight. With this natural treatment, improves your sleep efficiency, latency, and number of awakenings are reduced. Likewise perception also improves your rest.
It is the first study with objective methods (registration Chronobiology rhythms) Confirming significantly positive results. Therefore, we conclude that we can improve sleep onset, reduce nighttime awakenings and improve overall sleep quality a herbal product and melatonin as it is presented in this research.
* With the help of a scholarship donated by the Uriach Group