Sleep of regatta sailors (teams of 2) in the Barcelona World Race 2014-2015
INTRODUCTION
The Foundation supports a research program studying people with abnormal sleep habits, mainly in extremes sleep contexts/ sleep deprivation. Currently we are carrying out a study of professional sailors who participate in transatlantic races and who experience extreme conditions of interruption in their sleep. They sleep in 2 hour shifts throughout the duration of 3 consecutive months. This study is supported by the Foundation and is carried out by the Estivill Sleep Clinic and the University of Murcia, on request of the Foundation for Ocean Sailing, organizers of the Barcelona World Race.
It is well known that the sleep of a crew of two has it´s limits. In races, they must be able to tolerate long periods of time (2-3 months) sleeping in periods of 2-3 hours, 24 hours a day. However, little has studied about the fragmentation of sleep and even less on the consequences on their performance.
The main reason for this has been our lack of adequate instruments with which to study sleep.
However, at present, due to the advancement in the study of circadian rhythms by chronobiologists, we now have the appropriate tools in order to study the sleep of racing sailors and the consequences of this kind of sleep.
That is why, after studying the situation in depth, we can develop appropriate guidelines and routines which will improve their sleep, and consequently, their daytime performance.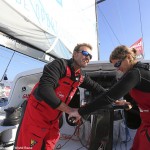 OBJECTIVES OF WORK
For a year and a half, (June 2013- December 2014) we studied the sleep, circadian rhythms and neurocognitive consequences on a crew of 2 racing sailors in order to prepare them in their training for the BWR (Barcelona World Race) race. These aspects were then studied at baseline during their training practices on land and on sea.
The ultimate goal is to obtain objective data of the fragmentation of sleep and the disorders and neurocognitive consequences resulting from this, on the sleep of transoceanic sailors. This will allow us to provide the appropriate recommendations for both racing sailors during the 3 month-long race.
You can follow the develpment of our research in the column on the right